Spoken Offers 50% Off Premium for AAC Awareness Month This October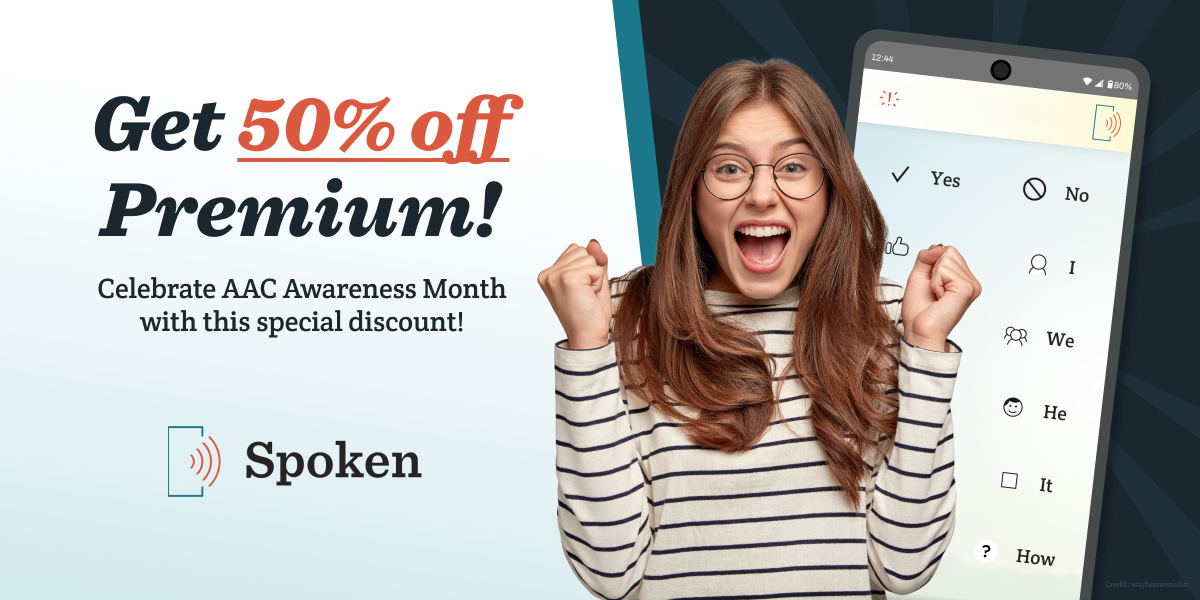 As October unfolds, it's not just the season that's changing—it's our perspective on what's possible. This month is an annual opportunity to redefine the boundaries of communication. Welcome to Augmentative and Alternative Communication (AAC) Awareness Month! Here at Spoken, we're celebrating by offering an exclusive promotion: 50% off all our Premium plans, from our monthly and yearly subscriptions to our unparalleled lifetime option!
Celebrating AAC Awareness Month
Augmentative and Alternative Communication (AAC) is a set of tools and strategies designed to assist those who have speech and language impairments. AAC Awareness Month serves as an opportunity to spotlight the importance of these communication tools and to educate the public about how they can make a difference in the lives of those who use them. Despite the transformative impact AAC can have, there is still a lack of awareness and understanding about these systems. This month aims to change that by:
Educating the Public: Many people are unaware of what AAC is and how it can benefit those with communication impairments. Awareness campaigns can help educate people about the different types of AAC systems available and how they work.
Promoting Inclusion: AAC allows individuals with communication impairments to participate more fully in social, educational, and professional settings. By raising awareness, we can help create more inclusive environments.
Encouraging Innovation: As technology advances, so do the possibilities for AAC. Awareness can drive research and development, leading to more effective and accessible communication solutions.
AAC Awareness Month is a collective effort. Whether you're an AAC user, a family member or caretaker, a professional, or someone who simply wants to learn more, there are several ways that you can get involved too:
Share your AAC journey on social media and inspire others.
Stay updated on the latest AAC technologies.
Donate to organizations that make AAC accessible to those who can't afford it.
Don't Miss Our AAC Awareness Month Promo!
To celebrate AAC Awareness Month, we're offering an unbeatable deal: 50% off all our Premium plans. Here's what you can expect:
Monthly Subscription: Perfect for those who want to test the waters and explore what Spoken has to offer.
Yearly Subscription: Ideal for those committed to long-term communication enhancement. Save even more with this option.
Lifetime Version: An absolute steal at 50% off, this is a one-time investment for a lifetime of Spoken Premium!
How to Take Advantage of This Offer
Taking advantage of this promotion is simple:
Visit our website and choose the plan that best suits your needs.
At checkout, the 50% discount will be automatically applied.
Enjoy access to all the features that make Spoken a leader in Augmentative and Alternative Communication.
Conclusion
AAC Awareness Month is a time to celebrate the power of communication and the technology that makes it accessible to everyone. With our exclusive 50% off promotion, there's never been a better time to join the Spoken family. Together, let's make this AAC Awareness Month the most impactful yet, because everyone deserves a voice!
About Spoken
Spoken is an app that helps people with aphasia, nonverbal autism, and other speech and language disorders.